Crispy Blackened Salmon Bites - 3 Ways!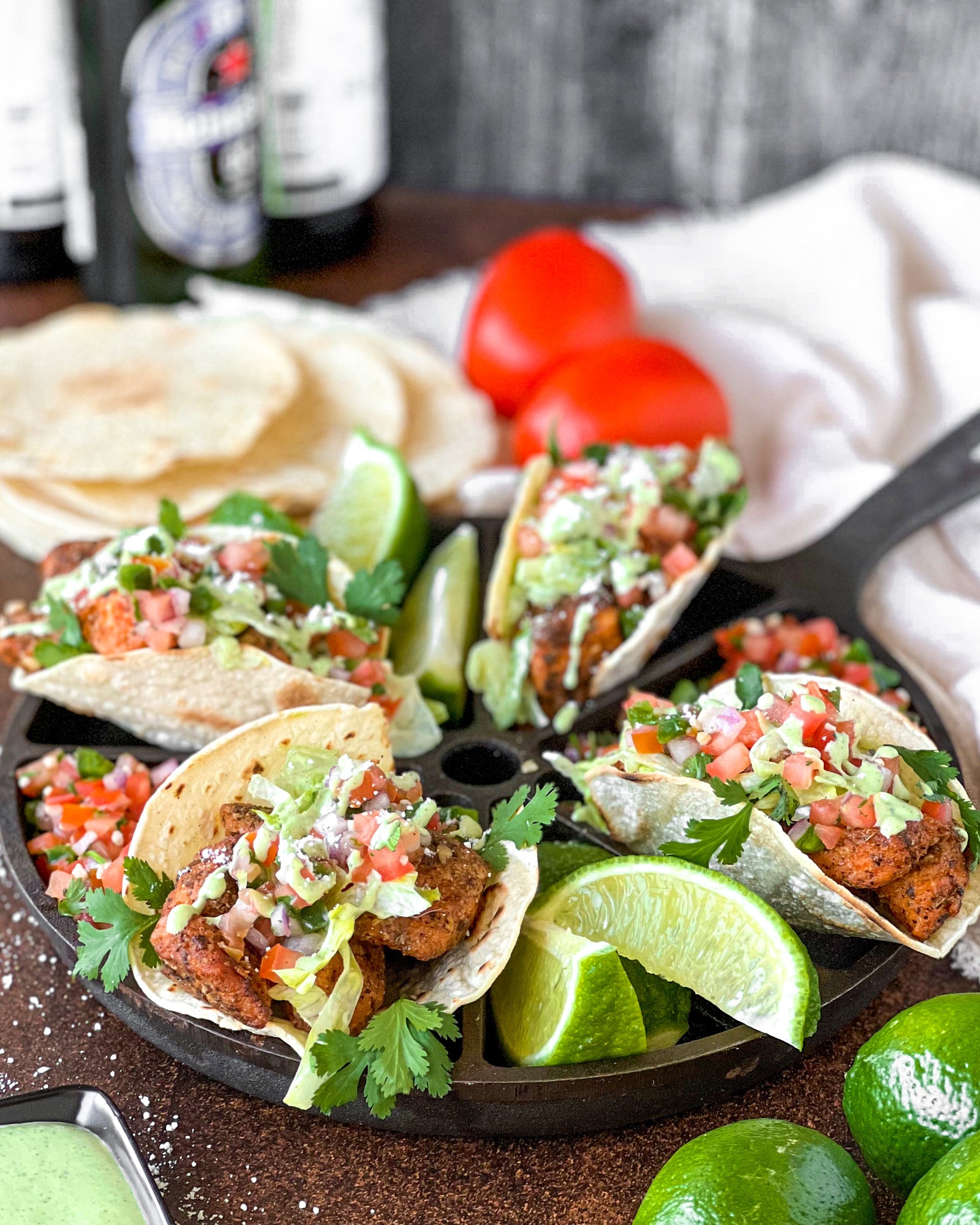 Who doesn't love a recipe that you can cook once then enjoy again and again (and in this case...again!)? Nothing fits that bill better than our
Crispy Blackened Salmon Bites
. As scrumptious as they are on their own, these bites are versatile enough to use several ways. Keep scrolling to see how we switched up our bites, creating three separate mouthwatering meals. Also, stay tuned at the end to see how Cooksy can help you recreate our recipe perfectly. We're talking precision guidance that you CAN'T mess up!
..............................
But first, did you know...
Ever wonder what the difference is between wild-caught and farm-raised salmon? Wild-caught salmon comes straight from its natural habitat in the ocean. Farm-raised means the salmon was bred and raised in a special pen. Wild-caught salmon consumes a natural diet, but this also leads to a higher cost and often less availability. Farm-raised salmon can be a good alternative. It tends to have a lower cost and is more readily available but can sometimes come from less-than-desirable farming conditions. Both types of salmon have their benefits, but be sure to look for ethically raised options when choosing farm-raised salmon.
..............................
Crispy Blackened Salmon Bowl
Can't you just TASTE all of the tangy crunch popping from our bowl? Trust us, your tastebuds will be dancing when our Blackened Salmon Rice Bowl is on the menu. Feel free to add whatever fresh ingredients you like, but here is a list of what we layered with our Crispy Blackened Salmon Bites to make our bowl.
2 c prepared cauliflower rice (can substitute steamed white or brown rice)
1/2 avocado, sliced
1/3 c carrots, julienned
1/2 c English cucumber, sliced
Cilantro Lime Crema (recipe below)
1 Tbsp green onions, sliced
1 tsp black sesame seeds
2 lime wedges to squeeze over bowl
..............................
Blackened Salmon Wedge Salad
Wedge salads will always have our hearts. Add some protein (hint, hint...like our Crispy Blackened Salmon Bites), and you have a complete, healthy meal! Again, you are the chef here and can top your salad with limitless toppings of your choice. Here is a list of the ingredients we used for our Blackened Salmon Wedge Salad (serves 4, as pictured).
2 heads of Romaine lettuce, sliced in half lengthwise (stem intact)
1 c bleu cheese dressing
1/2 c bleu cheese crumbles
2 Roma tomatoes, cubed
1 avocado, cubed
1/2 c cooked bacon, chopped
1-2 hard-boiled eggs, cut into quarters
2 Tbsp green onions, sliced
Serve with side of toasted ciabatta bread (optional)
..............................
Blackened Salmon Tacos
We are ALWAYS here for Taco Tuesday! Take it up a notch from your regular ground beef tacos (still a fan favorite!), and use our Crispy Blackened Salmon Bites instead. Holy WOW, these are tasty! Serve alongside your favorite chips and salsa plus a margarita for a darn good Taco Tuesday experience. Here is how we dressed up our Blackened Salmon Tacos.
Cooked corn tortilla (street-taco size)
Pico de gallo (can use premade, or add your favorite homemade version)
Cilantro lime slaw (see our Cilantro Lime Crema recipe below)
Cotija cheese
Cilantro leaves, for garnish
Lime wedges to squeeze over tacos
Additional drizzle of our Cilantro Lime Crema
..............................
Cilantro Lime Crema
1 1/3 c sour cream

3/4 c mayo
1 packet dry ranch dressing
4 Tbsp salsa verde
1 bunch cilantro
2 cloves of garlic
1-2 dashes Tabasco sauce
Juice of one lime
       Add all ingredients to a blender and blend until smooth and creamy.
..............................
Why You'll Love Having Cooksy for this Recipe
More often than not, we hear that cooking salmon can be an intimidating task. We get it. Salmon is a delicate protein and needs a good seasoning to get past what some consider to be a fishy taste. But fear no more! With Cooksy's precision guidance, you'll be a salmon-cooking pro in no time!
..............................
 Drop a comment below to let us know which was your favorite way to devour our Crispy Blackened Salmon Bites! Don't forget to follow us on your favorite social channel so you'll always know what's for dinner with Cooksy.
---