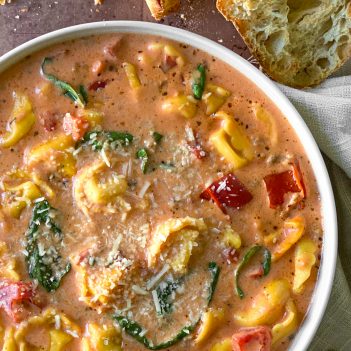 The temps keep dropping, which means our craving for a delicious, comforting bowl of soup goes WAY up! And our Cajun Tortellini Soup will have them coming back for more. Creamy with just the right amount of heat, this simple yet satisfying recipe will be often be your answer when anyone asks, "What's for dinner?"


There are a lot of Cajun seasonings available. But our very favorite one is Slap ya Mama Cajun Seasoning. It's heads above the rest and really deepens the flavor of this recipe. And while you can use any cajun seasoning you have on hand, we PROMISE this little can will become a pantry staple and makes a huge difference in the end result. It's available in many grocery stores, but you can order it here to have it delivered right to you. We must warn you, though – a little goes a LONG way. Adjust your heat level up or down, but use cautiously. 
You'll be amazed at how easily and quickly this soup comes together. Don't forget to serve it with some crusty bread for soaking up all the flavor, too.



One final note – this makes a BIG batch of soup, so you'll need a large pot to prepare this recipe. Our hands-down favorite pot (a ride-or-die-that-you-will-own-forever) is this dutch oven. It's an investment piece, but you will use it ALL THE TIME! Also, if you're like us and like to cook it once, eat it again and again, we love these cubes for freezing pre-portioned leftovers.



---